5 minutes reading time
We are thrilled to partner with IBM Cloud for Financial Services. We are one of the first customer and employee experience development platforms that joins the IBM 125-strong ecosystem of providers to help Financial Institutions get free from the binds of their legacy stacks, accelerate the move to the cloud and boost innovation and time-to-market.
Why does it matter?
Despite the hype, the reality remains that less than 16% of financial services workloads have been moved to the cloud, according to IBM. Moving to the cloud hasn't been readily embraced by financial institutions for several reasons:
firstly - Financial Services is a highly regulated industry where compliance and security are top concerns. So much so, that over 70% of their IT budgets go towards projects related to maintenance and risk management, according to IBM. Add to that a lack of critical skills for large migrations to the cloud and you can see why the status quo still reigns supreme.


secondly - the legacy stack is complex, disjointed, built haphazardly, with data spread around on several repositories, written in old code, and with a closed architecture that cannot be supported in a cloud environment. It's nearly impossible to rationalize the entire stack and refactor it into cloud-native applications. Most such projects take +5 years and investments of millions if not billions and often end in public outcry and regulators' scrutiny.
It's no wonder then, that 70% of banking executives are not planning to change their legacy core banking providers yet 60% of them claim that legacy technology is holding them back from transforming.
But then again, this it's not something that any banking executive wants to embrace due to the sheer size and risk involved, despite the market shifting fast and making incumbent FIs less and less relevant.
So far.
The ground has shifted and it's worth billions
The elephant is in the room and it's starting to break things. Nobody knows what banking is going to look like in 10 years, but signs clearly point towards an open, cloud-based, platform-based, and agile environment:
the pandemic dramatically accelerated the pace of change. FIs now have to keep up not only with digital natives' expectations for new and differentiating experiences but also with the expectations of their traditional customers that have suddenly discovered the advantages of doing banking anywhere, any time, and in real-time.



fintechs, Banking-as-a-Service players, neobanks - all present a challenge that is best embraced rather than fought.

As an example, the embedded finance segment alone represents a $230 billion opportunity by 2025. But how can FIs partner with such players which already have highly performing cloud-native architectures, while they are still struggling with COBOL and on-prem, disjointed, and complex stacks?


and finally, the talent shortage. On the one hand, we've got the Great Resignation and on the other hand, over 67% of banks and credit unions report that their biggest concern in 2022 is attracting the right kind of talent. So how can FIs shift to the cloud when skills required for large-scale migrations are so scarce?
Clearly, there must be a better way to move to the cloud and modernize the applications, in order to enable FIs to keep up. A better way than lift & shift.
This is why we partnered with IBM Cloud for Financial Services.
And here's how we can support you:
Compliance and security - the wicked duo that just got solved by IBM Cloud
Enter IBM Cloud for Financial Services - a platform and an ecosystem program designed to enable FIs and their partners to host applications and workloads in the public cloud in a secure way.
At its heart, there's the IBM Framework for next-gen cloud operations - focused on security and compliance. It considers regulatory requirements from over 75 financial services regulators in 24 countries. These requirements include regulations targeted directly at cloud usage and those applicable to third-party risk management, cybersecurity, and data privacy.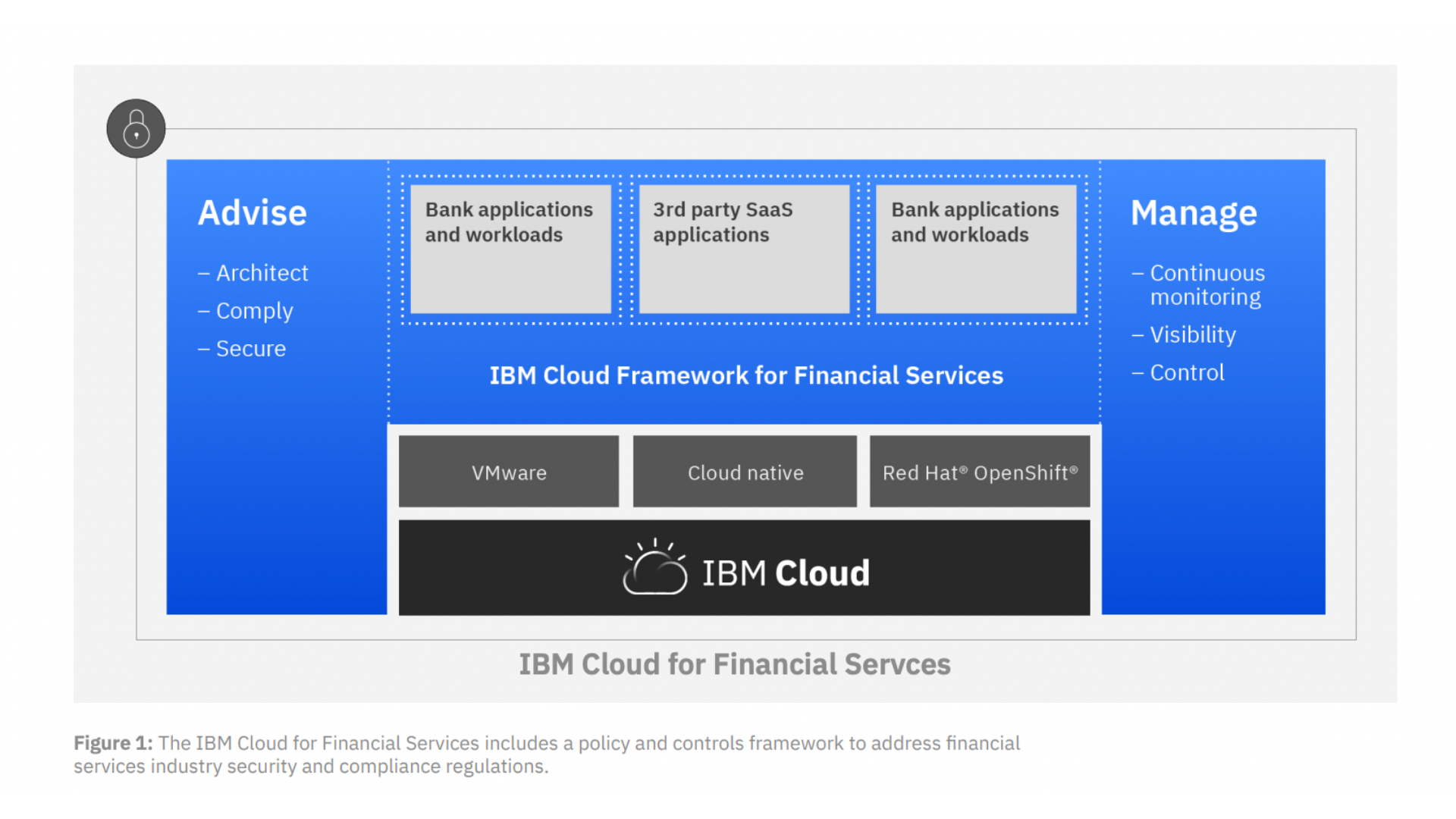 In a recent Acceleration Economy article, Howard Boville - IBM Head of Cloud Platform and ex-CTO at Bank of America described the uniqueness that IBM Cloud brings to mission-critical workloads that are moved to the cloud, noting that BPN Paribas has slashed their IT costs by 50% in the past 8 months using these new IBM Cloud capabilities.
So, wherever in the world you operate, a 50% reduction in your multi-million or billion IT budget, is nothing short of amazing.
But deploying your infrastructure in a cloud is only the first part of the story. The rest of it is how you deal with your existing applications and processes, how you shape them fast into what your customers want today, right now, and how to do it without any business disruption.
And here's where FLOWX.AI comes in.
Reshape and unify your legacy data and processes into beautiful customer and employee experiences
What we bring to the table in the acceleration to cloud migration - is a safe, paced methodology - Core Revival - that helps you dramatically improve your customer and employee experience and deliver 300% ROI in year 1, while gradually modernizing your application stack.
FLOWX.AI platform helps you shape all the existing data and processes to create in a matter of weeks new digital flows - such as onboarding, digital mortgage, unsecured lending - that constantly achieve +80 NPS. But without the business risk of "rip & replace" because our platform smoothly integrates with whatever technology stack you might have and helps you make the transition.
Informed by successful case studies with several of our customers, we developed the Core Revival framework that makes it easy for Financial Services institutions to:
Enable the business to deliver digital capabilities fast - with a mix of low-code/no-code capabilities, including visual designers and our patented ZeroRedeploy (TM) technology - we enable businesses to build enterprise omnichannel experiences at 40X the speed vs traditional coding methodologies. Thus we ensure you go to market fast and serve the needs of your customers and employees right now.


Expand with new functionality and reshape old applications into new cloud-native ones - once the unified front-ends have been delivered, you can continue to develop fast new added functionality or refactor old applications into reusable, microservices that you can deploy anywhere. One of our clients - a Financial services group with operations across the SEE, stated that they have a major release every 3 weeks - releases that previously, using traditional development methods took 12 to 18 months. This pace of things brings agility to a whole new level.


Strategic transformation. The final step is the decommissioning and replacing of legacy. After you've refactored old applications into new, microservices-based ones and tested them live - think of it like A/B testing, you can safely decouple the old application and move all processes to the new applications, without any business risk. The FLOWX.AI Engine is acting as a data, process, and functionality orchestrator, taking on the load while you do the switch. Think of it as a bypass system in heart surgery.
In a conversation with Ioan Iacob, our CEO and co-founder, Prakash Pattini - Managing Director - Digital Transformation, IBM Cloud for Financial Services stated that:
FLOWX.AI is in the vanguard of delivering the capabilities that allow financial services customers to truly meet their digital transformation goals. FLOWX.AI delivers value, multiple times faster, through its ability to integrate its modern tech platform with the existing stack, through plug-and-play functionality."
To sum up:
Together, IBM Financial Services Cloud and FLOWX.AI help you to:
free up your high-value engineering and development teams from doing repetitive, compliance, and risk management work and focus on those tasks that drive growth for your customers and improve the experience of your entire workforce.


empower your business employees to develop their own apps, within IT guardrails - thus accelerating even more the pace of change and aligning the speed of delivery with the needs of the business.


save enormous amounts of capital that were previously serving only to keep the lights on, rather than used for revenue and profitability growth.


deliver beautiful, omnichannel digital experiences that compete with those that fintechs offer, driving top-line growth and revenue churn.
Here's to the unbounded future!
-----
Read more on the IBM Think blog here.
Subscribe to Unbounded Talks